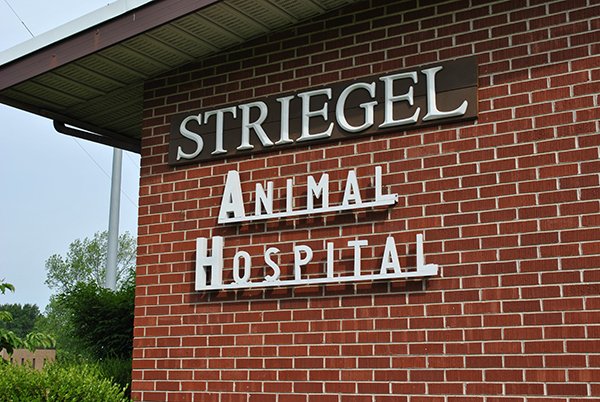 In order to maintain our high standard of service, we require that payment is made at the time services are rendered. We provide estimates for all surgeries and hospitalizations. If you have not received an estimate, you are welcome to request one at any time for your expected charges.
Striegel Animal Hospital is happy to accept:
Cash
Debit Card
Visa
MasterCard
American Express
Discover
??? All Pet Card
Care Credit
---
All Pet Card: Don't let cost concerns keep you from caring for your pet. With special financing for six months on purchases of $250 or more made with your All Pet Credit Card, you can get your pets the care they need - and pay over time. Prequalify now. It's easy, and there's no impact to your credit score to prequalify.
---

CareCredit: When unexpected illness strikes a pet, unexpected expense strikes as well. Striegel Animal Hospital understands this and accepts payment through the CareCredit program. It takes just 5 minutes to complete an application and will allow you to break down your payment into 6 monthly installments. You can apply yourself online at www.CareCredit.com/apply.
---

VetBilling Payment Plan: Longstanding Striegel Animal Hospital clients now have the option of signing an agreement to pay for services rendered. To qualify for this service the following requirements must be met.
"Longstanding" means your pet must have been seen at least once within the past 13 months, you must have had at least 3 appointments with a veterinarian at Striegel, and your first appointment at Striegel must have been at least 13 months ago.
You must be willing to have a soft credit check run and have a qualifying score. This type of credit check will not impact your credit.
There is a $25.00 processing fee that must be paid with a credit or debit card at the time the agreement is signed. There is a convenience fee of $3.00 on each payment towards your outstanding balance. There are no interest charges or additional charges if the terms of the agreement are kept.
You must be able to pay 50% of your bill at the time of service. The remainder can be placed on the payment plan.
Payments plans can only be created for amounts greater than $100.00, and not more than $1000.00.
You must be willing and able to pay 10% of the total amount due each month. For example, if your payment plan was for $400.00, you would need to pay a minimum of $43.00 each month until paid in full (10 months). $40.00 to meet the 10% minimum and $3.00 for the convenience fee.
Payments must be made via savings, checking, or credit card accounts and must be scheduled to occur at least once each month.
You must schedule a meeting with our Practice Manager who will complete the soft credit check and create the payment plan.
---
Pet Insurance
Pet insurance is a great option to make caring for your pet affordable, and ensure that they receive the care they need, when they need it. To learn more, please visit www.petinsurancereview.com.
How Pet Insurance works: The client pays their bill in full at the time of service. Striegel Animal Hospital will provide the client with an itemized invoice that the client is responsible for submitting to their Pet Insurance provider. The Pet Insurance provider will reimburse the client if they deem that the treatment is covered by the insurance plan.